Description
Why Choose XBrain Total Brain Optimizer?
Throughout our daily lives, we're affected by thousands of external stimuli and small distractions that can negatively impact our ability to concentrate and get things done. This can cause fatigue, mentally as well as physically, so it's important to feed our brains enough of the right stuff to keep ourselves focussed.
Using XBrain's Total Brain Optimizer can help you turn down the noise around you and allow you to really concentrate on the task at hand. It's formula contains key ingredients which have been clinically tested for their abilities to enhance focus, drive and memory making Total Brain Optimizer the perfect supplement for highly motivated and goal-driven people.
XBrain Total Brain Optimizer`s 3 Key Nutrients Designed to Enhance Brain Function
There are three key, clinically tested nutrients in XBrain's Total Brain Optimizer smartdrug that make it a unique and potent brain focus supplement – they are KSM-66® Ashwagandha, Zynamite® Mangifera Indica Extract, Cognizin® Citicoline and Theacrine (TeaCrine®). Each ingredient has its own individual benefits which, when combined, create the formula for the ultimate nootropic to support brain function and focus.
Zynamite® –
Multiple clinical trials have shown that Zynamite, made with Mangifera indica extract (derived from Mango leaves), can activate brain electrical activity, reduce fatigue and result in faster reaction times.[1]
Acute Effects of a Polyphenol-Rich Leaf Extract of Mangifera indica L. (Zynamite) on Cognitive Function in Healthy Adults…Read more about the clinical trials for Zynamite here—->  https://pubmed.ncbi.nlm.nih.gov/32717999/
KSM-66® Ashwagandha 
Is the most bioavailable, full-spectrum root extract available with multiple benefits. Trials have shown that KSM-66 can increase resistance to stress and can be effective in enhancing memory and attention span.[2]
KSM-66 has been evaluated in 24 "Gold Standard" clinical trials. Read more about the clinical trials here——-> https://ksm66ashwagandhaa.com/clinical-studies/
Theacrine (TeaCrine®)
Is a similar molecule to caffeine that can be found in various tea plants such as Camellia Assamica. It is thought that regular consumption of Theacrine can improve concentration in some people.[3] It has also been shown to have a positive impact on energy levels and mood.[4]
Cognitive Performance and Mood Following Ingestion of a Theacrine-Containing Dietary Supplement, Caffeine…..Read more about the clinical trials here——-> https://www.ncbi.nlm.nih.gov/pmc/articles/PMC4663612/
Cognizin® Citicoline
Its unique combination of nutrients stimulates the nervous system, helping to sustain a balanced biochemical environment in the brain and retain cognitive performance. By fortifying our bodies against the external and internal factors of modern lifestyle such as stress, environmental pollution, and improper diet, Cognizin citicoline may help protect our brains and aid in the preservation of optimum cognitive health.
Citicoline (Cognizin) in the treatment of cognitive impairment…..Read more about the clinical trials here——> https://www.ncbi.nlm.nih.gov/pmc/articles/PMC2695184/
Usage
Total Brain Optimizer from XBrain is a dietary nootropic supplement designed to improve focus, enhance memory and increase energy making it the ultimate brain supplement for tasks requiring high levels of concentration and can be used for everything from studying to gaming.
Each container of Total Brain Optimizer contains 80 individual capsules to be taken orally as a food supplement. Each capsule contains XBrain's unique formula which includes key nutrients to fuel your brain and provide a crash-free boost to support you through every day tasks.
What are the benefits of XBrain Total Brain Optimizer?
XBrain Total Brain Optimizer helps to optimise brain health, support cognitive function, improve mental clarity and provide balance to your mood and focus.
What ingredients are included in the XBrain Total Brain Optimizer?
Answer: XBrain Total Brain Optimizer contains natural ingredients such as DL-Phenylalanine, Bacopa Monnieri, Phosphatidylserine and L-Tyrosine, Theacrine, Cognizin citicoline, KSM-66, Zynamite.
Are you trying to find the top ADHD nootropics? Nootropics are a group of dietary supplements that have the potential to enhance cognitive function. They've been applied to improve concentration, memory, and general brain health. Nootropics can be particularly helpful for people with Attention Deficit Hyperactivity Disorder (ADHD).
Millions of people all around the world suffer with the prevalent illness known as ADHD. It is characterized by signs including impulsivity, hyperactivity, and difficulties concentration. For people with ADHD, these symptoms can be distracting and make it hard for them to concentrate and stay on target.
By improving concentration, clarity, and focus, nootropics can help control the symptoms of ADHD. Additionally, they can enhance learning and memory while easing anxiety and despair. Numerous natural and artificial chemicals are among the top nootropics for ADHD. Among the most well-liked nootropics for ADHD are:
1. L-Theanine: Green tea naturally contains the amino acid L-Theanine. It has been demonstrated to aid in enhancing focus and lowering anxiety. Additionally, it raises dopamine levels, a chemical that aids in mood improvement.
2. Caffeine: A well-liked stimulant that can increase alertness and attention. Energy levels may rise as a result, aiding persons with ADHD in staying focused.
3. Bacopa Monnieri: For many years, traditional Ayurvedic therapy has relied on this herb. It has been demonstrated to enhance learning, memory, and focus. Additionally, it can lessen tension and anxiety.
4. Ginkgo Biloba: This traditional Chinese medicine staple is a venerable herb with a lengthy history of use. Focus, memory, and mental clarity may all be enhanced. It has also been demonstrated to lessen ADHD symptoms.
5. Omega-3 Fatty Acids: Fish oil and other sources of omega-3 fatty acids include these necessary fatty acids. They can aid in enhancing mood, reducing inflammation, and enhancing cognitive function.
These are merely a few of the top ADHD nootropics. It is crucial to speak with your doctor before taking any of these supplements to ensure that you are a good candidate for them. You should also always search for supplements that are devoid of chemicals and fillers.
You can enhance your focus, memory, and overall cognitive function with the correct nootropic mix. Nootropics can also help you live a better life by easing the effects of ADHD.
Frequently asked questions:
What is the recommended dosage of XBrain Total Brain Optimizer?
Answer: The recommended dosage is 2 capsules per day.
How can XBrain Total Brain Optimizer help enhance my cognitive performance?
Answer: XBrain Total Brain Optimizer helps to optimise brain health, support cognitive function and improve mental clarity, helping to enhance your cognitive performance.
Combine Xbrain Total Brain Optimizer with Xbrain Chillpill for total human optimization—–>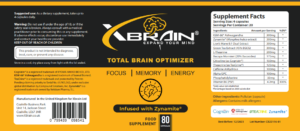 Benefits
Enhance memory
Improve focus
Increases energy level